This site uses cookies to provides services, personalise adds and analyse traffic. Information on how you use this site is shared with Google. If you use this site you agree with the use of cookies. Sorry to bother you with this annoying banner. European law says we have to. Click the "I get it" link to hide this message.
Deze site gebruikt cookies om services te leveren, advertenties te personaliseren en verkeer te analyseren. Informatie over je gebruik van deze site wordt gedeeld met Google. Als je deze site gebruikt, ga je akkoord met het gebruik van cookies. Het spijt ons dat we u met deze irritante banner moeten lastig vallen. Iets met nieuwe Europese wetgeving. Klik op het "I get it" linkje om deze boodschap te verbergen.
More info...
|
I get it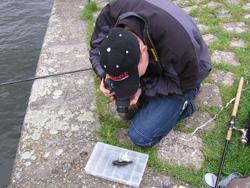 1. What is this?
It's a site where anglers can keep their specieslist up to date.
2. I can't upload images
Make the images smaller. The site is optimized for 640x480 pixels.
3. My species of fish isn't in the list.
Let us know what fish you are missing using the contact form. We'll add it asap.
4. My country isn't in the list.
Let us know what country you are missing etc etc etc.
5. how do I make a smiley in a reply?
They are listed here.
6. What is a zwoonzel?
A zwoonzel is a fish of which you have not yet determined the species. Upload your unknown fish as zwoonzels and maybe the other specieshunters can help you out.
7. What's the difference between yearlist and specieslist?
The specieslist contains all species of fish you have ever caught. The yearlist contains all species of fish you have caught in a specific year. When adding a new species of fish you can choose between adding it to just your overall specieslist or adding it to both your yearlist and your overall specieslist.