This site uses cookies to provides services, personalise adds and analyse traffic. Information on how you use this site is shared with Google. If you use this site you agree with the use of cookies. Sorry to bother you with this annoying banner. European law says we have to. Click the "I get it" link to hide this message.
Deze site gebruikt cookies om services te leveren, advertenties te personaliseren en verkeer te analyseren. Informatie over je gebruik van deze site wordt gedeeld met Google. Als je deze site gebruikt, ga je akkoord met het gebruik van cookies. Het spijt ons dat we u met deze irritante banner moeten lastig vallen. Iets met nieuwe Europese wetgeving. Klik op het "I get it" linkje om deze boodschap te verbergen.
More info...
|
I get it
Pictures Albin Dal Sarda sarda (Atlantic bonito)
Sarda sarda
(fb)
© Albin Dal
09-08-2015 16:11:21
4
person(s) like(s) this picture.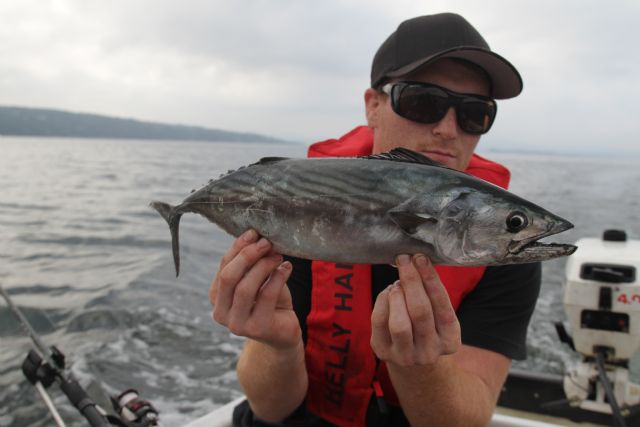 picture properties:
| | |
| --- | --- |
| year taken : | 2015 |
| country : | Norway |
| notes : | |
replies (10)
09-08-2015 22:15:04
Jani Hakkarainen says : Congrats! This was your 100th species from Norwegian waters, right?

09-08-2015 23:20:35
Albin Dal says : Yes! so happy with this. Everyone was catching. Foul hooked 2! on the 3rd day i finally caught 2. Magic!

10-08-2015 14:36:29
Theo Modder says : Congrats with your fish Albin, and especially from norwegian waters !

11-08-2015 16:53:06
Albin Dal says : Thanks! Everyone is catching them this year. Seems to be an abundance of them. 5 years since the last one was caught!

11-08-2015 17:23:20
Ronnie van Beem says : Bonito in Norwegian waters? Awesome!

11-08-2015 17:24:12
Ronnie van Beem says : Bonito in Norwegian waters? Awesome!

11-08-2015 22:22:13
Ton Nientied says : In Spanish waters, where they were abundant in the past, Í have not yet seen them this season.

12-08-2015 22:32:40
Albin Dal says : Every species hunter from east, west and center have come to oslo to catch it. Deep deep in inner fjord. So strange. But so fun!

13-08-2015 20:19:00
Jarno Laihinen says : Well done Albin, mission accomplished!

14-08-2015 23:33:01
Albin Dal says : That was only the first. Next up 110. Then 120, 130... it never ends... :p

---
---