This site uses cookies to provides services, personalise adds and analyse traffic. Information on how you use this site is shared with Google. If you use this site you agree with the use of cookies. Sorry to bother you with this annoying banner. European law says we have to. Click the "I get it" link to hide this message.
Deze site gebruikt cookies om services te leveren, advertenties te personaliseren en verkeer te analyseren. Informatie over je gebruik van deze site wordt gedeeld met Google. Als je deze site gebruikt, ga je akkoord met het gebruik van cookies. Het spijt ons dat we u met deze irritante banner moeten lastig vallen. Iets met nieuwe Europese wetgeving. Klik op het "I get it" linkje om deze boodschap te verbergen.
More info...
|
I get it
Pictures Theo Modder Aphareus rutilans (Rusty jobfish )
Aphareus rutilans
(fb)
© Theo Modder
12-11-2013 01:44:05
5
person(s) like(s) this picture.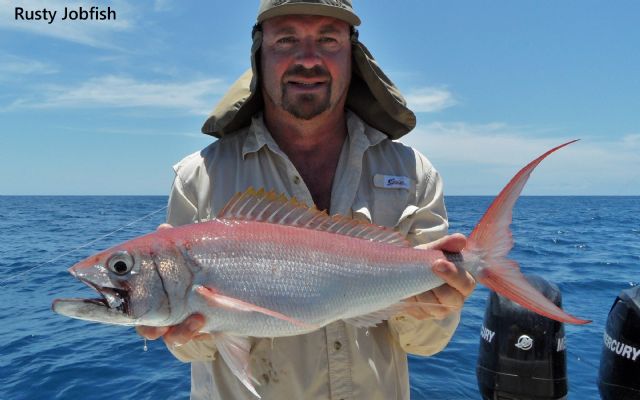 picture properties:
| | |
| --- | --- |
| year taken : | 2013 |
| country : | Madagascar |
| notes : | On the speedjig. |
replies (4)
13-11-2013 14:39:15
Pieter Beelen says : Wat een bek. Coole vis!

14-11-2013 00:25:33
Ton Nientied says : Dit is m.i. de aphareus furca (small-toothed jobfish).

14-11-2013 00:44:57
Theo Modder says : Ton, ik hou toch vast aan A.rutilans, A.furca heeft meer geel in de vinnen, vooral staart, maar ook andere vinnen.
Deze vis heeft alleen een streepje geel in de rugvin.
Als dit een A.furca was geweest was ie al groter dan de max grootte voor de soort.
A.rutilans wordt veel groter nog.
Ook andere bronnen, uit Azie en Australie, zien dit als een Rusty Jobfish.

15-11-2013 00:09:55
Ton Nientied says : Ik had mijn info. uit Marine Fishes of SE-Asia (Gerry Allen), maar na jouw info en na Fishbase bekeken te hebben, blijkt dat de beschrijving van de A. rutilans bij de afbeelding van A.furca staat (en andersom). Ikzelf heb de aphareus furca op mijn lijst, maar dat is dan ook een aphareus rutilans. Ik zal het corrigeren. Wel een mooie vechter deze vis!

---
---