This site uses cookies to provides services, personalise adds and analyse traffic. Information on how you use this site is shared with Google. If you use this site you agree with the use of cookies. Sorry to bother you with this annoying banner. European law says we have to. Click the "I get it" link to hide this message.
Deze site gebruikt cookies om services te leveren, advertenties te personaliseren en verkeer te analyseren. Informatie over je gebruik van deze site wordt gedeeld met Google. Als je deze site gebruikt, ga je akkoord met het gebruik van cookies. Het spijt ons dat we u met deze irritante banner moeten lastig vallen. Iets met nieuwe Europese wetgeving. Klik op het "I get it" linkje om deze boodschap te verbergen.
More info...
|
I get it
Pictures Jarno Laihinen Ostorhinchus novemfasciatus (Sevenstriped cardinalfish)
Ostorhinchus novemfasciatus
(fb)
© Jarno Laihinen
23-04-2015 19:52:12
4
person(s) like(s) this picture.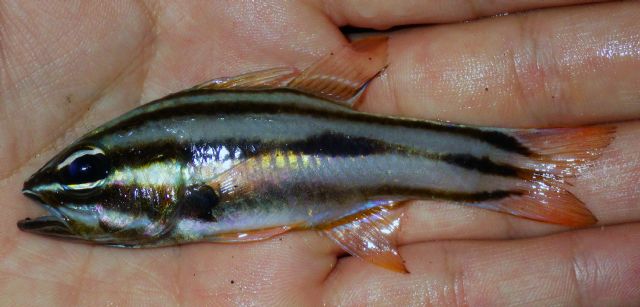 picture properties:
| | |
| --- | --- |
| year taken : | 2015 |
| country : | French Polynesia |
| notes : | |
replies (3)
24-04-2015 09:31:14
Pascal Pépé Sjamajee Rommelaere says : Anny big species over there Jarno??

24-04-2015 10:13:08
Jarno Laihinen says : Not this time, it was a work trip, and I only had couple hours at each harbour. So I just had to do my best from the shore with smaller species. But I'm more than happy.

24-04-2015 14:17:50
Pascal Pépé Sjamajee Rommelaere says : Oh so, but beter small then nothing. Each specie count. and some are rare and quit lovely. well done. Maybe next time asking your boss to do some overtime Hahahaha

---
---