This site uses cookies to provides services, personalise adds and analyse traffic. Information on how you use this site is shared with Google. If you use this site you agree with the use of cookies. Sorry to bother you with this annoying banner. European law says we have to. Click the "I get it" link to hide this message.
Deze site gebruikt cookies om services te leveren, advertenties te personaliseren en verkeer te analyseren. Informatie over je gebruik van deze site wordt gedeeld met Google. Als je deze site gebruikt, ga je akkoord met het gebruik van cookies. Het spijt ons dat we u met deze irritante banner moeten lastig vallen. Iets met nieuwe Europese wetgeving. Klik op het "I get it" linkje om deze boodschap te verbergen.
More info...
|
I get it
Pictures Michael Lee Berg Misgurnus anguillicaudatus (Pond loach )
Misgurnus anguillicaudatus
(fb)
© Michael Lee Berg
11-03-2013 16:23:21
3
person(s) like(s) this picture.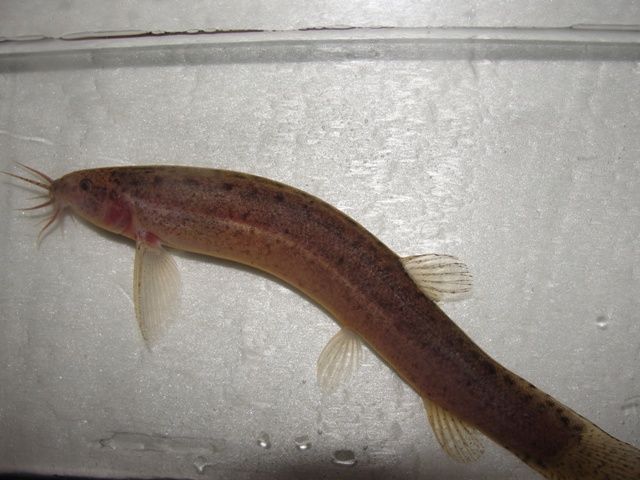 picture properties:
| | |
| --- | --- |
| year taken : | |
| country : | |
| notes : | |
replies (6)
12-03-2013 16:04:33
Frank Habets says : Amazing creatures Michael!

12-03-2013 16:10:43
Frank Habets says : This specie lives in a small stream not so far away from my home. Any hint to catch these Michael?

12-03-2013 20:02:18
Michael Lee Berg says : I used a tinny piece of worm on a Tanago hook (size 26). I went to a spot where they were supposed to be and watched the leaf litter and brush on the bottom. Then I sight fished the first one I saw, it was not shy at all. I moved the bait about 3 inches in front of it. I saw another one over gravel so I'm not sure of the habitat they prefer. Hope that helps good luck. This sight might help: http://www.tenkarabum.com/micro-fishing-hooks.html

12-03-2013 21:53:28
Pieter Beelen says : This is cool! Catching these is more difficult than catching a big one.

14-03-2013 11:55:07
Frank Habets says : Thanks a lot. I hope they aren't shy in Europe to.
14-03-2013 19:35:08
Michael Lee Berg says : I would think they would act the same but the European species of loach are different than this one. Misgurnus anguillicaudatus is from Asia. I hope you get one.

---
---